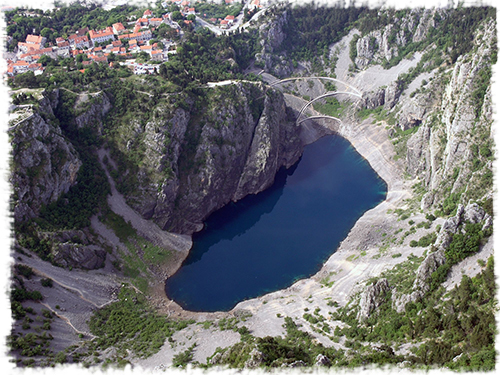 Tourist agency Imota Touristik is specialized in renting a holiday home and villas with pool in the area of Imotski and Dalmatian hinterland.
Our main service is renting out holiday houses and villas with pool in Imotski and Dalmatian hinterland. We also have a lot of other services and attractions for you too. You can rent a car or a boat, go on an excursion, various trips, and adventures, have food & wine dinners. Also, we are offering various transfers.
If you want to have an active vacation we are here to make it possible.
Rural tourism Imotski – Excursions Imotski – Rent a car Imotski – Rent a boat Imotski – Rent a scooter Imotski – Adventure Imotski – Food & Wine Imotski – Rafting excursions.
The location of Imotski and its landscape is perfect for rural tourism and for the holiday homes, as it offers perfect peace and view. Imotski is rich with lakes with two most famous: blue and red lake.
Sea and beaches are only 20 minutes drive through the tunnel Sv. Ilija which connects Imotski and Dalmatian hinterland with Dalmatia and the sea.
For a taste of adventure we recommend you to take one day trip rafting the river Cetina (town of Omiš) or rent a boat for the day trip on the islands of Brač and Hvar and their mystical coves. You'll have a great time.
Nature lovers, in front of you there is plenty of adventure, because the rise of the mountain slope from which spreads a beautiful view of Imotski, the town of Makarska and the islands of Brač and Hvar is something you have to experience, a walk around the blue and red lake will give you enough relaxation that you will remember for a lifetime. The perfection of nature.
What we offer:
– Professional Services
– Quality accommodation
– Luxury accommodation
– Unique and authentic homes
– 24 hours availability a day
– No hidden costs
Our services:
– Renting a villa with pool in Imotski
– Renting holiday houses with pool
– Trips to over 20 destinations
– Food & Wine Imotski
– Dinner organizations
– Groceries delivery Imotski
Transportation services:
– Rent a car
– Rent a van
– Rent a boat
– Taxi service
– Private transfers
– Airport transfers
Other services:
– Rural tourism in Imotski
– Robinson tourism
– Adventure Imotski
– Wellness Center
– Sport and Recreation Imotski
– The fulfillment of all your wishes
We are at your disposal for your every request, 24 hours a day. Spend your vacation in Imotski while discovering and experiencing still unexplored destinations at the reach of the Dalmatian coast. All of the beauty is hidden in preserved villages and unspoiled nature of the Dalmatian hinterland.
Sincerely yours,
Imota Touristik Team